A Severe Housing Downturn Is Now Possible
Sound the alarm. A severe housing downturn may now be in the cards in the United States.
That is, if you believe the latest commentary from credit rating agency Fitch Ratings.
To be clear, they actually said "the likelihood of a severe downturn in US housing has increased."
They still believe such a scenario is not probable, and instead we'll see a more moderate pullback in the housing space.
That mostly affects home builders, who are already struggling, though it could lead to a decline in home prices.
Real Estate Crash vs. Correction vs. Housing Recession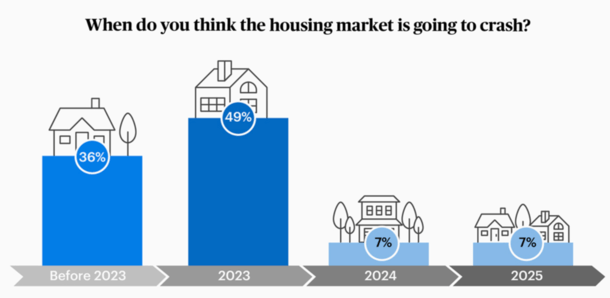 There's been a lot of negativity in the housing market lately, as I said there would be a while back.
We have entered a negative news cycle regarding real estate, mortgage rates, and the economy at large.
Back in June, economist Mark Zandi of Moody's, another credit rating agency, said we were in a housing correction.
What he meant by that was that we finally arrived at the tail end of the housing boom. In other words, the good days were over.
This was mostly led by a doubling in mortgage rates, creating an affordability crisis that stalled home price gains.
Still, many market watchers believe home prices will continue to rise, at least nominally. Once factored for inflation, they might be flat or technically lower.
And of course, certain markets will be impacted more than others, namely those that saw unsustainable run-ups over the past several years.
Also this week, the National Association of Home Builders (NAHB) said higher construction costs have ushered in a "housing recession."
What this means is less housing starts, price reductions, flagging demand from prospective home buyers, and fewer home sales.
So to tally it up, we've got a housing correction and a housing recession, and the fear of a real estate crash on the horizon.
Many Americans Actually Want a Housing Crash So They Can Buy a Home

Interestingly, many Americans want a housing crash, per a 1,000-person survey from ConsumerAffairs.
The company found that 78% believe the housing market will crash soon and 63% want it to.
If we're talking just a housing correction, 80% want one. Overall, 27% prefer a housing correction over a housing crash.
This would allow for a gradual pullback in home prices, allowing new buyers to enter the market without putting…