Cash Out Refinance Fees Are Going Up in Early 2023
While most homeowners probably don't have a refinance on their radar (due to the big jump in interest rates), take note that fees for cash out refis are going up in about a month.
Back in October, Fannie Mae and Freddie Mac announced new loan-level pricing adjustments (LLPAs) for cash out refinances.
The move was intended to help the Federal Housing Finance Agency (FHFA) better support "core mission borrowers," aka promoting affordable housing.
That same announcement included the elimination of upfront fees on HomeReady and Home Possible loans, and for first-time home buyers with limited incomes.
Those fee reductions went into effect December 1st, but the increased cash out fees don't go live until February 1st, 2023.
Cash Out Refinance Fees More Than Doubling in Some Cases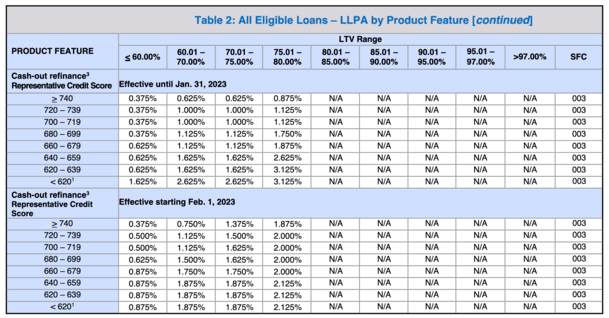 There aren't a ton of reasons to refinance at the moment, given the doubling in mortgage rates from the start of 2022 until now.
But those in need of cash might consider a cash out refinance depending on the circumstances.
Unfortunately, these transactions are set to get even more expensive come February 1st, 2023.
The FHFA, which oversees both Fannie Mae and Freddie Mac (roughly 80% of the mortgage market), said it has "targeted increases to the upfront fees for most cash-out refinance loans."
As you can see from the chart above, LLPAs will be more than doubling in some cases on cash out refinances.
For example, a borrower with 740 FICO score and an 80% loan-to-value (LTV) ratio will see the LLPA for cash out rise a full percentage point.
On a $500,000 loan, we're talking another $5,000 in upfront fees, which would likely translate to a higher interest rate instead of paying/deducting that amount from loan proceeds.
That could raise your interest rate .25% to .50% depending on the lender, making the cash out refinance even more unattractive.
Simply put, LLPAs are typically absorbed via a higher mortgage rate instead of being paid out-of-pocket.
Wait to Cash Out If Your FICO Score is Below 660?
Meanwhile, borrowers with FICO scores between 620-660 will see their cash out refinances become cheaper in many cases.
Looking back at that chart, a borrower with a 625 FICO score and an 80% LTV will see their LLPA fall from 3.125% to 2.125%.
So for this hypothetical homeowner, there's a case to be made to wait…