Watch Out for 8% Mortgage Rates
Now that interest rates have resumed their upward climb, do we have to worry about 8% mortgage rates next?
Back in July, I questioned if 7% mortgage rates were on the horizon, given the steady rise seen at that time.
While rates hadn't officially hit 6% then, by Freddie Mac's measure at least, they were in that range and seemingly heading higher.
But shortly after they got a much-needed reprieve and began drifting back to the lower 5s and even the high 4% range.
That was then and this is now – today, a 30-year fixed might be priced at 6.5% or worse. And 7% might not be unheard of either. Could 8% be in play next?
What Are Mortgage Rates Currently? It Depends Who You Ask
As noted, mortgage rates officially surpassed 6% during the week ending September 15th, per Freddie Mac.
They run the most highly cited mortgage rate survey in the nation, and thus are seen as the official scorekeeper.
According to Freddie, the 30-year fixed averaged 6.02% last week, the first time it crossed the 6% threshold since late 2008.
Of course, we know the 30-year fixed was in the 6% range at times during early summer, even if it wasn't reflected in the survey.
Regardless, mortgage rates have surged even higher since last week, and the Freddie survey will likely show a big jump, potentially something close to 6.25% or higher.
Here's the thing though. These average rates are for prime borrowers (excellent credit) who are buying (purchase loans) a single-family residence.
They also require a 20% down payment (80% loan-to-value ratio) and 0.8 in mortgage points.
If we consider a home buyer with a 3-5% down payment and a 660 FICO score, who doesn't want to pay points at closing, their rate could well surpass 7%.
Same goes for someone with marginal credit who wants to refinance. Or someone with an investment property.
Basically anything higher risk than the vanilla scenario thrown out by Freddie will see higher rates than the survey average.
In other words, before you think an 8% 30-year fixed is crazy, consider where mortgage rates really reside at the moment.
An 8% 30-Year Fixed Hasn't Been Seen Since the Year 2000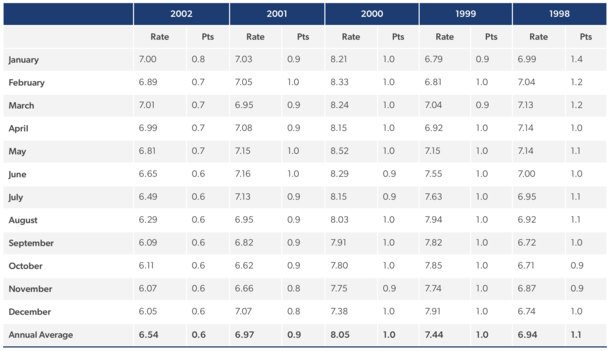 Now the last time we "officially" saw a 7% 30-year fixed was in March 2002, per Freddie Mac. At that time, the 30-year fixed averaged 7.01%.
Those were actually seen as low rates because…