Why Is the Housing Market Cooling? And Should We Worry About a Bubble Bursting?
The housing market is cooling. There's really no debate. Things are slowing down. You can mostly thank a doubling in mortgage rates and high home prices for that.
However, talks of a more severe housing bubble might be overstated.
Sure, it's easy to compare today to 2007 or 2008, if you don't take time to dig down into the details.
After all, home prices are lofty, the stock market is shaky, and the economy is looking as uncertain as ever.
But let's talk about why things aren't the same as they were 15 years ago.
Yes, Home Prices Are Too High
First things first, home prices are too high. Similar to pretty much every other asset, whether it's a tech stock or bitcoin, home prices overshot the mark.
This was arguably driven by the easy money days of the past decade, exacerbated by a pandemic and a frenzy to own real estate, especially in the suburbs and exurbs.
For example, everyone wanted lots of space all of a sudden, far from urban centers.
This ran counter to the trend of moving into cities and ditching cars for pedestrian-friendly, urban hubs.
The reason was COVID-19, which has now mostly abated, making those who purchased in far out places question the decision.
Certain cities saw massive inflows, like Boise, Idaho, which are now expected to see the biggest declines.
We've also had a massive supply/demand imbalance, with far too few homes available to satisfy the appetite of prospective home buyers.
Together, this led to record home price appreciation, with property values rising 125 straight months on a year-over-year basis.
In fact, home prices were up 18.3% in June 2022 from a year earlier, per CoreLogic. However, home price gains slowed from the prior month for the second consecutive month.
Home Price Gains Are Slowing, Cooling the Housing Market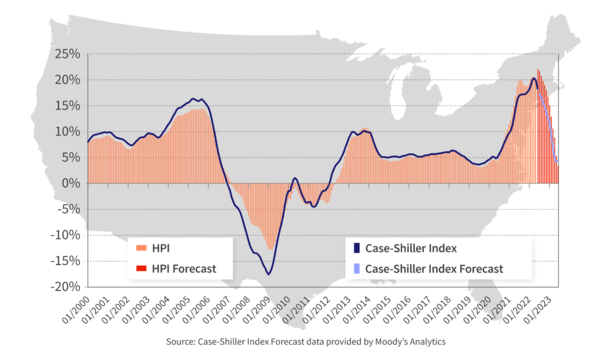 There's been a lot of confusion regarding home prices lately. Some folks seem to be jumbling slowing appreciation with falling prices, as if they're the same thing.
But as noted, home price GAINS are dropping. In other words, if your home was appreciating 10% year-over-year, it might only rise 5% next year.
The takeaway is that it's still rising in price, which might be the best way to look at today's housing market.
CoreLogic still expects home prices to rise 4.3% from June 2022 to June 2023 on a year-over-year…